| | |
| --- | --- |
| In partnership with | |
Jacqueline Longo
Senior Program Manager, Capacity Building
In the world of colored juices and sports drinks, where does water stack up? Often, and especially amongst kids, it's last. Really, who can blame them when the alternative is a sugar-loaded, flavor-packed punch? But hydration is key to keeping campers (and all kids) safe and happy during hot summer days. That's why we're sharing a few ways we encourage water drinking at camp. Now you can use them to get your kids on the track to hydration!
The Camp Chug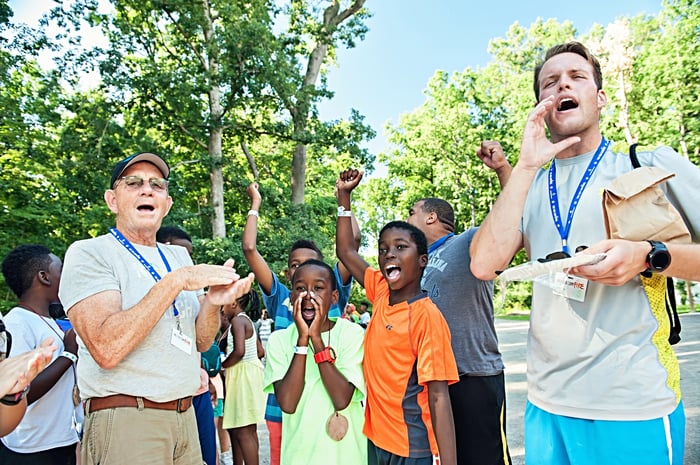 Everything at camp is both fun and beneficial—and drinking water can be the same. As a group, decide on a special sound or signal that will serve as the prompt to chug some water. Every time you make the call, the group should grab their water bottles and hydrate (hint: a touch of drama goes a long way—cheers are welcome!). Add exciting incentives, like points for all who finish their water bottles before lunch, or get crafty and deck out your water bottles in preparation for the big day of hydrating ahead.
Plant Charades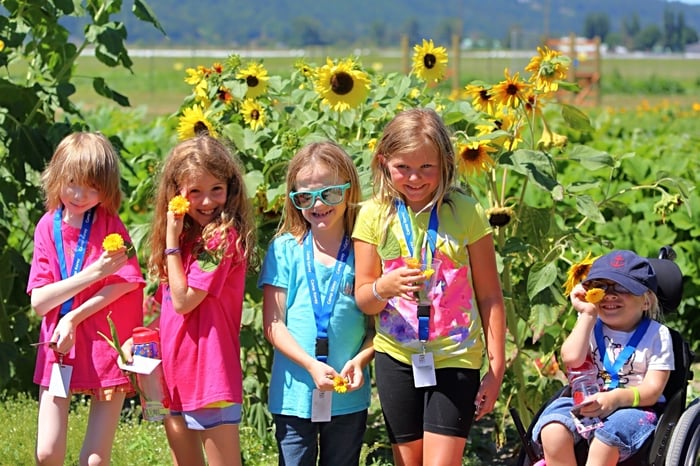 Eighty to ninety percent of plant cells are comprised of water. And humans? Up to 60% of the adult human body is water! Share this with your youngsters to let them know how important water is.
Then the fun begins. Gather them around, crouched low to the ground, with a cup of water. When you finish your water, sprout off the ground with your arms above your head, doing your very best impression of a growing plant. Depending on ages and preferences, you can make this as silly and loud as you'd like! Or turn it into a silent game of charades…which plant will you be? The whole point is to get a little goofy, and gulp down that water you need to grow.
At camp, we often take water breaks every twenty minutes to ensure campers are drinking throughout the day, and not just at meal times. If charades aren't your thing, why not try a smartphone app? Apps like Plant Nanny (it's free!) remind you to hydrate with a virtual plant that the kids will adore.
First Comes Water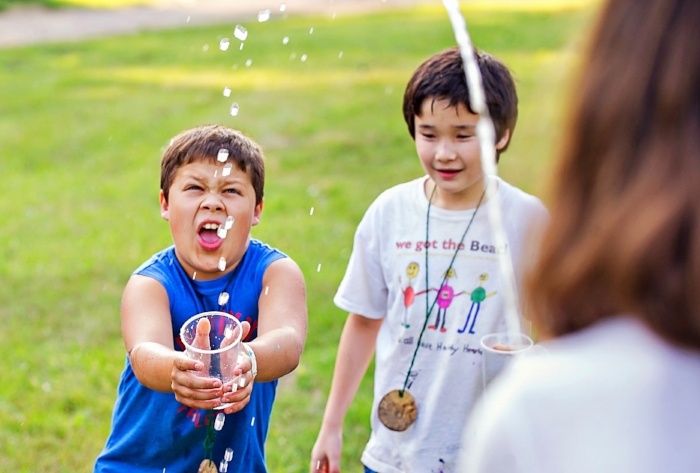 Spring may bring visions of cookie-dough ice cream, freshly-squeezed lemonade, and ice pops galore. And at camp, we wouldn't want to deny a sweet treat to our deserving campers. That said, staff are experts at making sure water comes first. For example, camp staff often implement a 2 to 1 water to juice rule. At meals, campers, staff, and volunteers are welcome to their share of Newman's Own Gorilla Grape only after a glass or two of water!
Colorful with a Side of Fun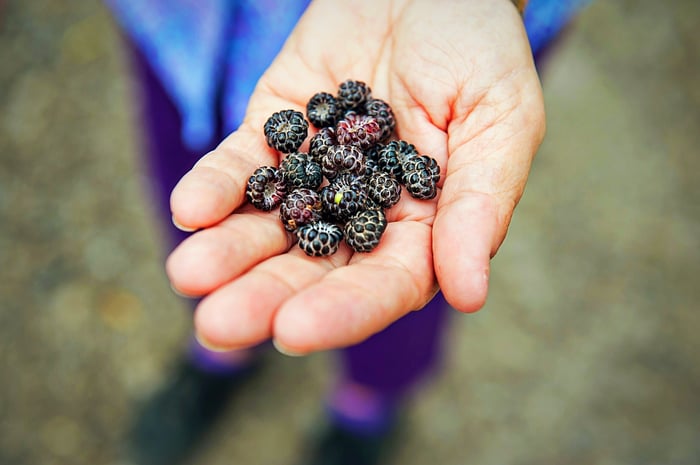 It's no secret that kids (and adults?!) are attracted to bright colors. At camp, we try to incorporate color wherever we can. Try using the following tips that have been adapted from camp for home-use to make drinking water a splash.
Add lemon, berries, or mint to give water extra taste and make for a colorful pop. Kids may reach for the fruit-infused water instead of asking for juice or soda.
Chill water with colorful ice cubes. Try adding pieces of fruit or food coloring to the ice tray when you fill it up.
Resort to the good, old-fashioned straw. Today you can find reusable, stainless steel or glass straws in all sorts of color varieties, prints, and widths. Make these fun straws a treat when drinking water only.
Give your child a choice! Let them select a colored water bottle or reusable cup for all their water hydration.
Repeat After Me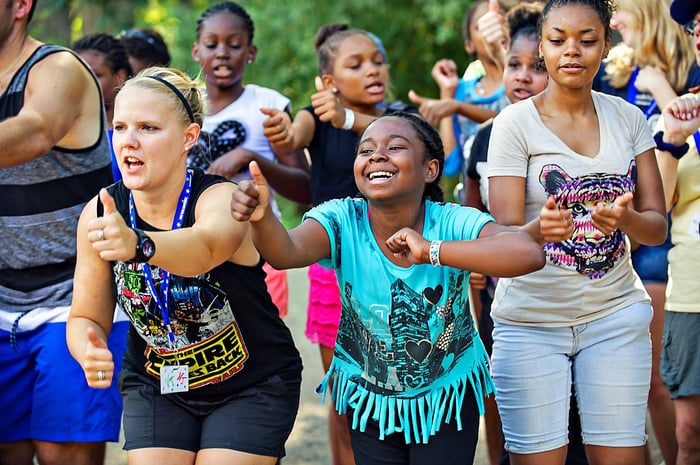 Finally, at camp, volunteers and staff are encouraged to drink water—and to drink it in front of the campers. Children are great mimics. Whether at home or out on the town, drink your share of H20 in the kids' line of sight. Try substituting water for a few of your own sugary drinks too. And make note of it! Or, you might try turning family water breaks into restful moments that everyone can enjoy by sharing stories or favorite memories while you sip on your refreshing drink.
---
The Super Spring content series was made possible through a grant from Niagara Cares, the philanthropic initiative of Niagara Bottling. Funding from Niagara Cares also supports a variety of camp programs within SeriousFun Children's Network. SeriousFun associates are responsible for the content within this article.
Jacqueline loves nothing more than thinking outside the box and team spirit—cue never-seen-before icebreakers! By developing virtual and in-person learning opportunities for staff across the Network, she fosters collaboration near and far.