Rebecca Egan
Program Manager, SeriousFun Partner Programs
Here at SeriousFun, we recognize the power of gratitude to transform our mood and attitude about a situation. Indeed, it was in the spirit of gratitude and appreciation that our founder Paul Newman came to found the first SeriousFun camp: "I wanted to acknowledge luck, the benevolence of it in my life, and the brutality of it in the lives of others." We've compiled some camp-inspired gratitude activities you can try at home that are suitable for all ages.
1. Make a Web of Gratitude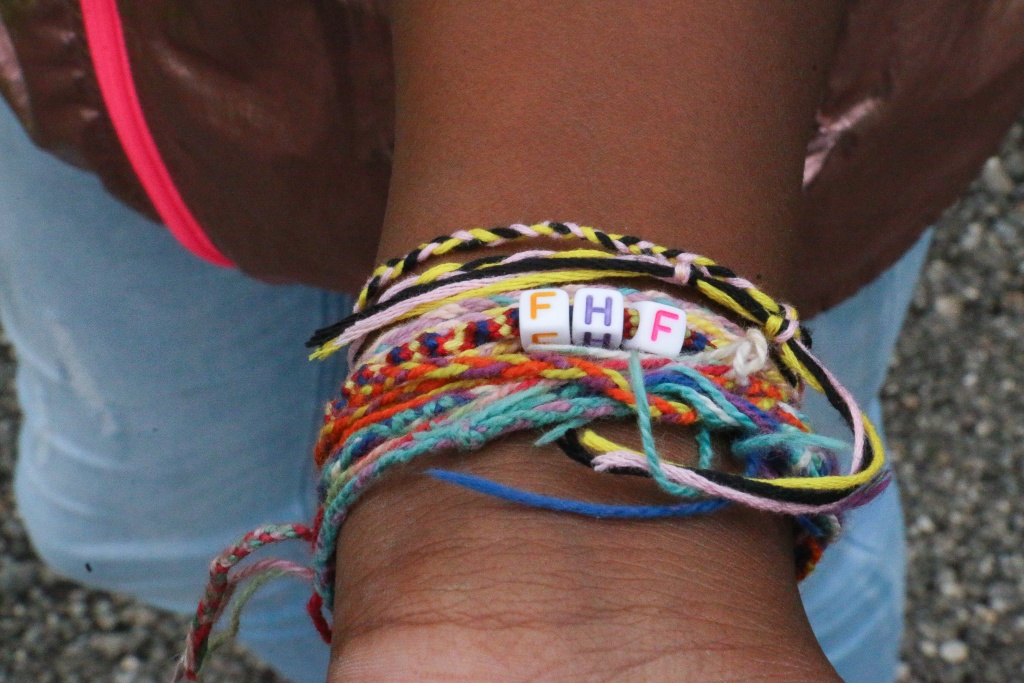 What you will need:
Ball of yarn or wool

Scissors
What to do:
Start by introducing the theme of the activity. You could say something like, "This game is all about giving thanks and appreciating the things in life that bring us comfort, joy, or care."
Give the following instructions on how to play: We are going to gently toss this ball of yarn around the circle. Before tossing the ball, make sure you are holding on to a piece of yarn. Say the name of the person you are going to throw it to before tossing. When you receive the ball, it is your turn to share something that you are grateful for. It can be absolutely anything — from your favorite movie to a new opportunity — no matter how big or small. Take your time to think about your answer before saying someone else's name and tossing the ball to them.
The game continues until everyone has received the ball more than once (you can specify the number of times at the start of the activity if you'd like to). When everyone has finished sharing, you will have created a spiderweb of gratitude with the yarn.
Using the scissors, cut small pieces of yarn for each person, and ask them to keep this as a reminder of your activity and symbol of gratitude. You could all wear them as bracelets, or someone might choose to put it in their wallet as a keep sake — challenge by choice!
2. Create a Gratitude Jar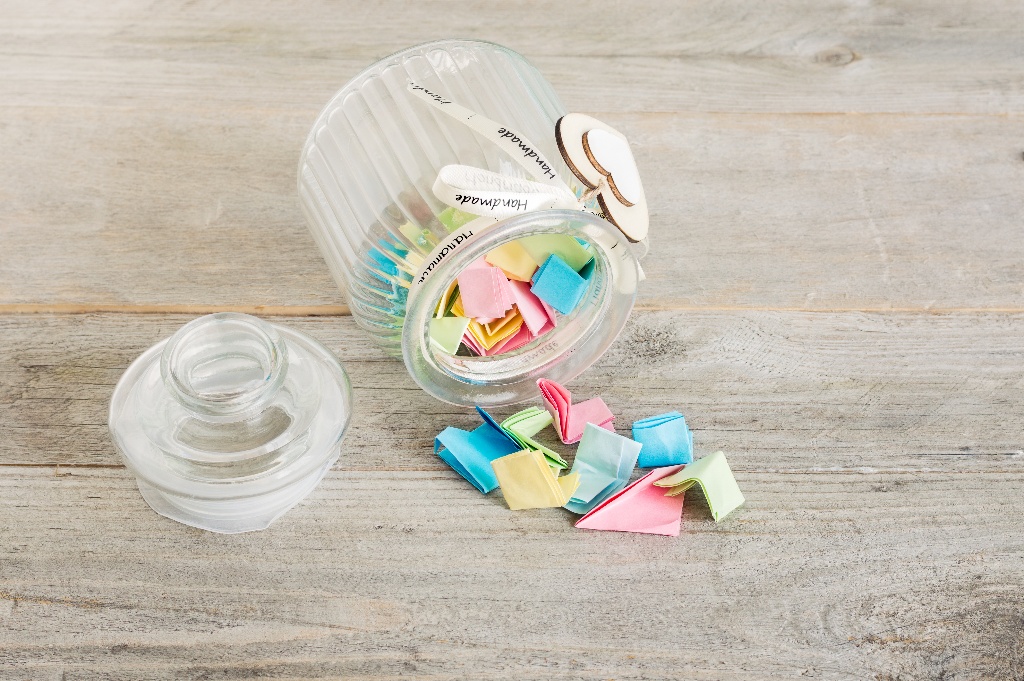 What you will need:
Clean glass jar (or similar)

Pens

Slips of paper
What to do:
Ask each member of your family to jot down some things they are grateful for, listing each on a separate piece of paper. As noted in the last activity, these can be things both big and small. Aim to fill the jar!
If you want to sprinkle in some extra creativity or entertain younger kids too, you could have them decorate the jar with ribbons, stickers, paint, or anything else you have around the house.
Each day, maybe before dinner or during breakfast, someone can chose one slip of paper for the jar that can serve as a talking point, and will set a tone of gratitude throughout the day or meal.
3. Go On a Gratitude Hike
What you will need:
Yourself

Friends and/or family
What to do:
An activity with double the benefits — fresh air and giving thanks! Next time your family laces up the hiking boots, use it as an opportunity to soak in and appreciate the beauty of nature.

You might take turns sharing observations and reflections about things you're enjoying around you, or you could even turn this into a familiar game of "I Spy" with a twist of gratitude: "I spy with my little eye something red that I am grateful for…"

This activity is a great exercise in mindfulness, helping your family members to be more present. If hiking is not your thing, you'd be surprised by how many things you might be grateful for just walking around the neighborhood!
4. Keep a Gratitude Journal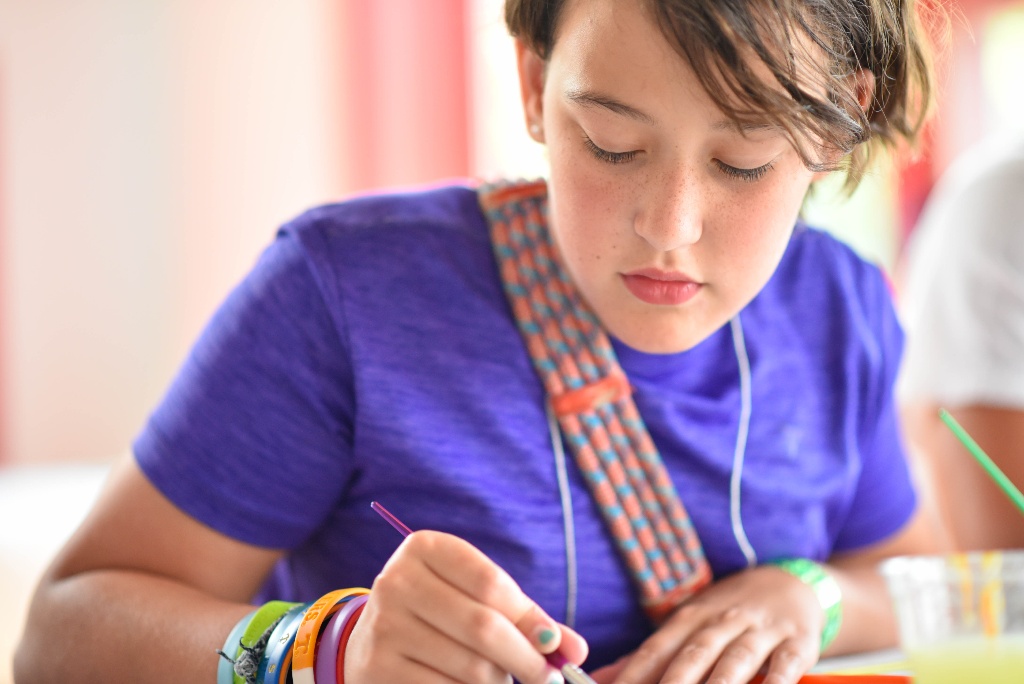 What you will need:
Notebook for each person (this can be made at home with loose leaf paper and string)

Arts and crafts supplies

Pens
What to do:
Why not deepen your family's gratitude practice with personalized journals? You can enjoy arts and crafts decorating them as a family, and then fill the pages by answering a prompt of the day, such as:

Something you're thankful for from the day
Something a family member or friend did for them
Something they saw and are thankful about
Something they did for someone else

Not only are gratitude journals a great way to practice mindfulness, but looking back at past journal entries will also be a great mood-boosting tool for you and your family!
---
As the health and safety of our campers, families, volunteers, and staff is always our top priority, we're closely monitoring COVID-19 here at SeriousFun. To learn more and check on the status of upcoming or future camp and program sessions, please click here.
For more information about SeriousFun Children's Network, visit www.seriousfunnetwork.org or contact us at info@seriousfunnetwork.org.