Lemlem Tale
Child Psychologist, Field Consultant & Camp Volunteer
All across the globe, SeriousFun Children's Network is creating hope, bringing joy, and fostering resilience for children living with serious illnesses through the unique power of camp. I would like to share my first-hand experience with one of these programs — SeriousFun's partner program in Ethiopia run with Worldwide Orphans Foundation — and the tremendous impact it's had on campers, with you.
Prior to being involved with SeriousFun, I worked as a child psychologist in my home country of Ethiopia. I used classic counseling techniques to support children living with serious illnesses who were battling depression and anxiety. But illness is heavily stigmatized and can have a devastating impact on a child's sense of self-worth and confidence. In my work, I would see only incremental signs of improvement over a period of a year. Such slow progress was frustrating, but it was the reality.
Then I had the opportunity to volunteer at Camp Addis, a SeriousFun partner camp in Ethiopia, where I was introduced to camp as a new approach to reaching this marginalized population of children. Through programming that introduced campers to a culture of fun, acceptance, socialization, and healthy behaviors, these children flourished!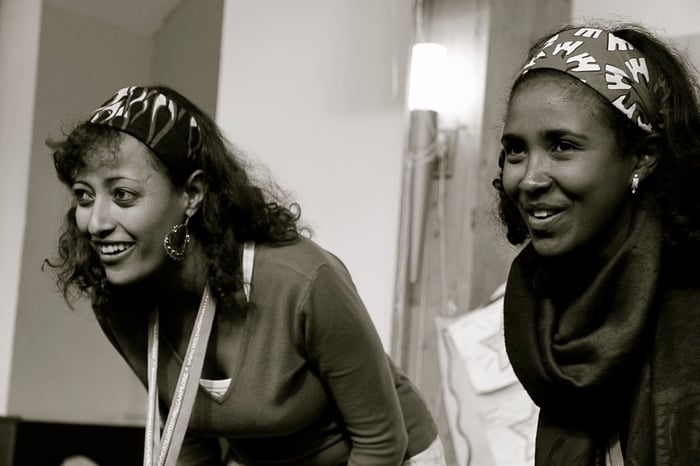 I had never seen such positive, immediate, and lasting effects on children. One camper, in particular, was a child I had worked with previously who I'd never seen smile in all my time working with him. After only three days at camp, he was transformed — smiling, laughing, and connecting with other campers! It was an incredible realization — and still moves me — to know that camp can forever change a child in just one week.
From that moment on, I knew I needed to be more involved with camp. I started working with Camp Addis, eventually serving as Camp Director. Today I am a SeriousFun Field Consultant, training leadership teams at other SeriousFun partner programs across Africa and Asia to deliver this powerful program to children in places like Swaziland, Malawi, Tanzania, and India. I feel so lucky to help bring life-changing experiences to children across the globe — experiences made possible by caring individuals like you.




One of my favorite aspects of camp that's woven into the fabric of all of SeriousFun's partner programs is the Super Camper Award ceremony. It's a short celebration that takes place after meals where campers are recognized for something positive they were 'caught' doing at camp. It's a time when camp leaders show a child, who often feels undervalued, that they have incredible worth in this world.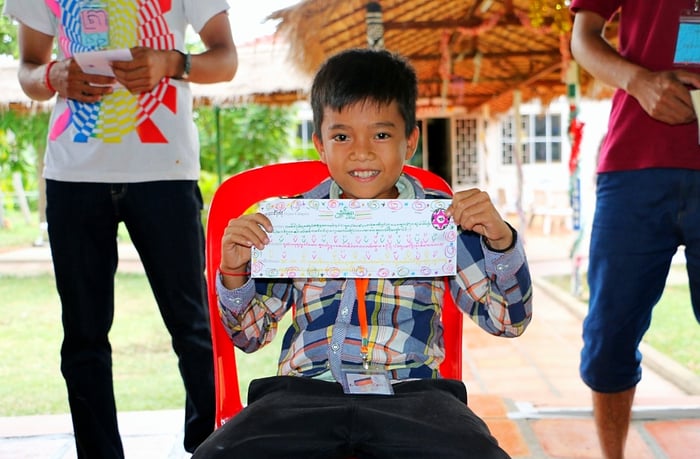 Campers who receive the award are invited to sit in a special chair, wear a coveted hat or lei, and might even receive their own handmade bracelet. The entire camp then erupts in song, dance, and a round of high-fives to award the recipient. The best part is that we make sure every single child is celebrated by the end of the week.
At the heart of each celebration is the actual Super Camper Award itself. Camp counselors personalize the award with a Description of what they saw the camper do, a positive Label for the camper's action, and then Praise for the camper as an individual (known as the DPL method). This thoughtful delivery of praise allows children to internalize just how valued they really are. And while it's merely a piece of paper, campers hold on to their award as if it was a million-dollar note.
Recently, at Camp Hope in Malawi, a former camper from 2011 returned for a visit. He still had his Super Camper bracelet and recited the Description, Label, and Praise from his Super Camper Award word for word, now almost 6 years later!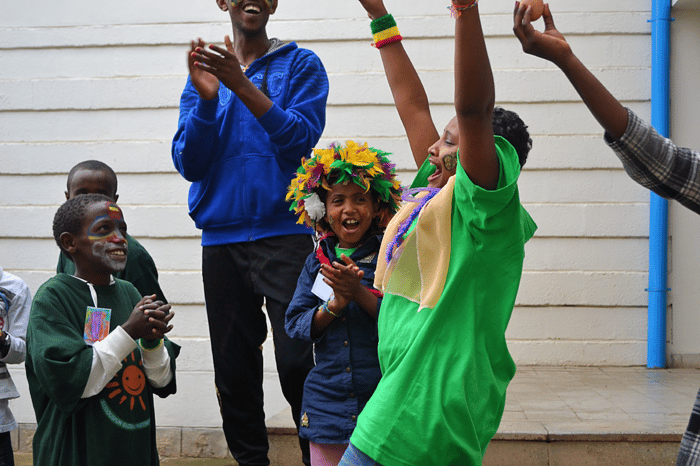 For many of the marginalized children camp serves, being celebrated or awarded is something they've rarely seen or heard before. That's the magic behind this idea: we can help a child understand their value and boost their self-confidence. The message we are sending through simple and silly celebration is that they can overcome any challenge by simply bringing out the positive qualities that already exist deep inside.
In my mind, there's no doubt of the impact that these programs and celebrations have on campers. Children who struggle not only with illness but also with social stigmas in their society are finding their courage, strength, and smiles at camp — always free of charge.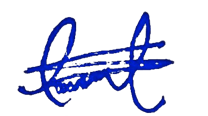 Lemlem Tale
SeriousFun Field Consultant
---
To learn more about or support Camp Addis and SeriousFun partner programs around the world, contact Tim Bethune, Director of Partner Programs, at tbethune@seriousfun.org.
As the health and safety of our campers, families, volunteers, and staff is always our top priority, we're closely monitoring COVID-19 here at SeriousFun. To learn more and check on the status of upcoming or future camp and program sessions, please click here.